World Vision
Hi! Michelle Gold here. Thanks for checking out my World Vision Page! Joey and I have 4 girls through World Vision! Daline (Israel), Thai (Vietnam), Lisbeth (Peru) & Nidia (El Salvador). We don't get to take them home with us but the girls are our family and helping them through our monthly sponsorship has changed our lives.

What made us get involved in child sponsorship is that we found out that every time you & I take a breathe, twenty children die from preventable diseases like malnutrition (that's 29,000 children who die each day!). We have traveled all over the United States spreading World Vision's urgent message, through music, to reach out to the poor and needy and we believe that God commands us to remember the poor.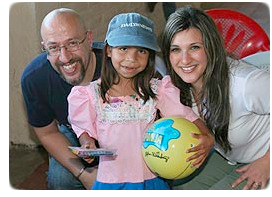 Joe and I went to El Salvador in December of 2004 and visited villages where families were completely consumed with poverty. We also saw villages where world Vision came in. It was like night and day!
We saw schools which were built and were honored to perform for hundreds of children who were so grateful for the opportunity to be educated. (Normally, little children are urged to work all day at home or in the field to help support their families!) We met lots of adorable teenagers like Wendy, who were being trained in computer skills and some now going to university!
We met farmers and small business owners who were trained in agriculture or learned enough about small business to make their families completely self sufficient in just a few years. (One lady makes chicken sausage and sells to all the major restaurants in her country! She employs 5 or 6 other ladies.)
We saw one of the new wells built and it was a huge difference compared to the dirty river full of diseases families previously drank from. (Before World Vision came in, children & families bathed, defecated and drank from the same river.) We met local World Vision doctors who provide healthcare and a nutritionist who saved lives of children in the village by teaching them how to cook & prepare their food and eat vegetables. Lastly, we saw the look of faith and joy on the face of each Mother as they shared with us through a translator, how they now have hope for life and a future.
Most importantly, our lives have been deeply touched and enriched because we know we are making a difference. Joe & I don't have a lot of money but we know we can afford a dollar a day. We know there must be something we could sacrifice or alter in our lifestyles to provide for a little child's future even if it means having our morning coffee at home or putting it in a travel mug instead of buying it at the local store.
Would you like to sponsor a child right now? It's easy! Just click to the right on the World Vision button. When you get to the page, just click on "Sponsor a child." You can choose any child you like and even type in yours or a family member's birthday or anniversary or your favorite country and there's a good chance you will find a perfect match!
Or - If you cannot sponsor a child today, would you like to help me to spread this message via email? It's FREE! It takes just a few minutes and is also pretty simple. Again, just click to the right on the World Vision button but wen you get to the page, click on "Become a Hope Ambassador." I know you have a big heart! Thanks for your love and help!
-Michelle Gold