My Story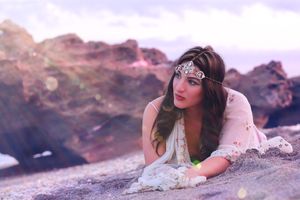 Yeshua (Jesus) said, "I am the way, the truth and the life. No one comes to the Father except through me. If you really knew me, you would know the Father as well. From now on, you do know Him and have seen Him."
-Matthew 14:6-7
BEFORE FINDING MY GOD
This is the verse that comes to mind as I look back on how awesome it has been to know God as my closest friend. But I haven't always had this relationship with Him...
Growing up in a Jewish family, I was given the impression
Judaism was a rich culture filled with beautiful & exciting traditions rather than a deep faith.
I was (and I still am) very proud of being Jewish & I felt blessed to be associated with a people who fought very hard to be where they are today. My Dad, a teacher, hoped that I would be a very successful person one day and that I would either marry a doctor or a lawyer, or become one! LOL
I was told great stories about holidays like Passover, Purim and Hanukah, and understood that this God, wherever He was, had a whole lot of power. But I also learned that this God- who was to be feared, was a God who was miles and miles away. I was not sure if I or my family believed in religion, or in a personal God who would actually care for, love and guide us in the intricate details & trials of life.
Perhaps the best "religion" my family knew and understood was the worship of music itself
. My family was full of musical talent, and could have been the next Osmond Family. (Mom sings like Ethel Merman; Dad like Tony Bennett and Ira; like the lead singer of Metallica) Music was often the only thing that held my family together! So naturally, Music, success and singing were the gods I put my hope in.
But singing & an overwhelming desire to be famous could never fill the hole in my heart and often led to emptiness and disillusionment.
Feeling an enormous need for validation & self-worth, I began a lifestyle of partying & promiscuity. In a very sad way, this lifestyle made me feel needed. But more often, I was left with a feeling of guilt and uselessness wondering if there was any other reason besides my voice & my body that people might like me. My relationship with myself suffered and most importantly, I had a scary feeling that God could not possibly love me anymore.
(Sidenote: I found out later in life that often when a person is drawn to an unhealthy lifestayle or craving or addiction, there are other deeper issues that need to be dealt with in counseling & a radical prayer of the heart is needed to receive the healing God intends)
BEGINNING TO SEARCH FOR GOD
Verbally, and at one time, physically & sexually mistreated by someone whom I loved, I sought refuge once again in my music.
This search for inner peace led me to my cousin Stephen's studio in Florida, where I thought that making a music demo would solve my problems.
Little did I know that the God whom Stephen served would be The One to solve my problems!!!
On Miami Beach, Stephen told me how a Jewish Rabbi named Yeshua (or Jesus) had come to earth in the form of a man, though fully God in the flesh. He told me about all the miracles He performed, making the deaf hear and the blind see. He shared about how Yeshua died on a tree for my imperfections & was raised from the dead.
He told me that Jesus was in fact the long-awaited Jewish Messiah in accordance with the Hebrew Scriptures in Isaiah 53!A beautfiul breeze came over me & with the simple faith of a child, I accepted the Truth. Immediately following my return to Brooklyn, I purchased a Bible and decided to follow Jesus.
Realizing that going to church (there were no
Messianic Congregations
I knew of then) was the only way I could eliminate the pain I was feeling, I went against my parent's wishes and I would sneak off to church every Sunday on my bicycle!
When I finally told my family about my belief in Yeshua, my family emotionally disowned me for almost an entire year. They were kind but distant. They were civil but I felt like we had lost any sense of deep emotional connection we once had. My dad, though always a loving father to me, talked of possibly sitting Shiva for me (a ceremony performed for the dead in Jewish Culture). I was sent to a deprogrammer and a well respected Rabbi & forced to talk on the phone with family members who threatened to mourn for me as if I were dead because of their fear of what I was getting into.
But I was willing to fight for what I believed in! During this time in my life, I had more peace and joy than I ever could explain. All my prayers were being answered with regard to my career, having won the Lena Horne Scholarship and awarded the opportunity to go to one of the best music conservatories in the country, Manhattan School of Music. I began to see that I was precious in God's sight.
Sadly however, it was not long before I doubted my faith and took 10 giant steps backwards to my seemingly fun but deceitful past. This step backwards happened for two reasons. First, it was because I did not know about the Hebrew scriptures describing Jesus as the Messiah as I do now. Second, I did not join a congregation where I could be strengthened in my faith & encouraged in my new-found relationship with God.
At age 17, I left my family and moved into my college dorm, thinking that I had it all together but instead, my life just fell apart. I began a so-called romantic relationship which was abusive to my body, mind and spirit. I was not living a life that was pleasing to Jesus and I even got so busy that I forgot all about Him!
I wish I had known as I do now that I could have changed with the help of His Holy Spirit in me. I thought that I had to rely on my own willpower to do what was right and healthy & good. But thankfully, God did not forget me. And my Bible sat waiting in a dusty garage, under some soiled rags, where my parents had hidden it from me long ago.
Finally, I had come to my final and greatest tribulation in the Spring of 1994. I, a young college student at Manhattan School of Music, lost the one thing that meant the world to me - my VOICE! The loss of my voice symbolized to me the end of not just my career, but also a dying part of me. All my life, I depended upon my ability and ambition, and never on the God who gave me that ability and ambition. My voice had always been everything to me - it was my only source of joy, my only hope and sadly, my only sense of love and self-worth.
Depressed and not knowing whom to turn to, my mind went to thoughts of suicide. Thankfully, God had a plan for my life, and He kept me from destroying that plan. Instead of ending my life, I sought God and He presented a way of escape (II Corinthians 10:13) by leading me to a 12-step group called Al-Anon.
Through Al-Anon and God's grace, I learned how to love again, how to communicate and how to forgive those who had hurt me in the past. God used Al-Anon to change my life. The twelfth step encouraged me to draw closer to my "Higher Power" and to find out just who that Higher Power is. In those rooms I was healed in many, many ways.
Looking back, however, I could never be where I am today without Yeshua (Jesus in Hebrew) But how did I come to believe in the One who was forbidden to me as Jew? The one whose name for years I could only call "JC?" The 12 step program challanged me to find and search for who my "Higher Power" truly is & to draw near to Him. And I just kept thinking about John 14:6 & 7 where Yeshua says,
"...I am the way and the truth and the life. No one comes to the Father except through me.

If you really know me, you will know my Father as well. From now on, you do know him and have seen him."
AFTER FINDING GOD
Having lost it all, I found myself in a little Brooklyn Church where a prayer service seemed to be going on. Touched by the words and prayers of a female
elder there who was praying out loud at the moment, I began to tremble and cry with tears of joy and healing. In my heart, I knew it was this Yeshua healing me once again but this time, of something bigger. In those moments, I knew that HE took away my shame, my desire for that unhealthy life-style I had been leading which left me empty. It was Jesus who delivered me from my lack of love for myself,  my sick secrets & my past. And only Jesus was able to promise me the gift of life after death & heaven here on earth. there could be no greater promise.
Soon after, CONTAGIOUS PASSION began to fill my soul! With a new outlook on life, I broke off all ties with my past & my shame and decided to live each day for God alone but only by His strength.
('...Not by might nor by power, but by my Spirit,' says the

Lord

Almighty. Zechariah 4:6)
I completely forgave the person whom I loved for hurting me and after seeing the change in my life and theirs, our relationship was totally restored! MIRACLE OF MIRACLES!
I was also blessed with the restoration and healing of my voice, which sounded even better than it had before & the Lord expanded to eight notes higher! I know now that the source of my strength & hope does not come from success or fame or my voice, but from the loving and merciful God who had given it to me. I cant help but sing for Him now. His gift and His love are greater than Gold!
Today, I am married to a wonderful man, who treasures and respects me more than I could have ever dreamed of. He has a deep passion for Jesus & has lovingly dedicated his life to being my best friend, my soul mate & my prayer partner as we enter the throne room of our God together on our knees, as one, each day when we pray. Joe Franco and I were married on April 17th, 1999.
As I minister in song at different venues, using my gifts for God's praise, I encourage people of all walks of life to seek refuge in the God whose name is above all names. As a result of my obedience to Yeshua's call, I have seen the lives of people change in great ways as they decide to live their lives for Him. I have seen depression disappear, marriages reunited, & have seen the joy on many faces when they learn that there is hope for their future. My goal is to tell the world that there is one answer, one way to eternal life, and one great reason to live, and that reason is Jesus.
Like Esther, I want to help bring salvation to my Jewish people. I think a man or a woman can be more Jewish by believing in Jesus! I am now a completed Jew, if you will, a Messianic Jew, and I enjoy celebrating all the holidays that Yeshua himself celebrated. I am now Kosher (made clean) inside and out, not because of the food I eat, but because my heart has been circumcised & has turned towards His love, which is too deep and too wide to attempt to explain! All the purpose and meaning in life has been made clear now.
There is so much work to do. There are people who are crying out for answers and love and fulfillment. How will they know about Jesus' amazing love for them unless someone tells them? As for me, there are better singers out there and there are more perfect people than me. Bu I say to God, "Here I am. I am just a broken vessel but use me to do great things & give me a heart that follows after You.
Find out more about who Yeshua is
here
.