Give the gift of music in THREE EASY STEPS.... 
Click 

on image for ALBUM of choice 
(Scroll down to tiny print ) Choose "ALSO AVAILABLE IN iTUNES"  /"VIEW IN iTUNES"
Choose "GIFT THIS ALBUM" in drop down menu next to pricing. 
*Option available only on computer. Price reflected below subject to change. Thank you for spreading this message of hope, healing and L'Chaim (Life)!*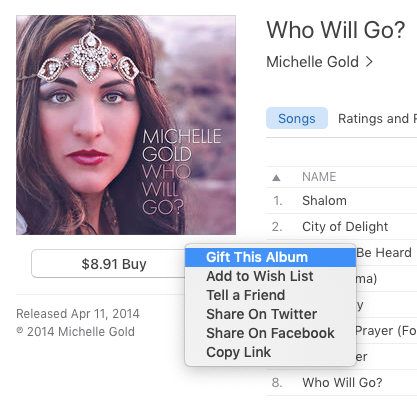 SEND THE PAPERBACK BOOK 2 YOUR FRIEND'S DOORSTEP!
Select the box for desired format choice: KINDLE (E-book), AUDIOBOOK, or Paperback. Then Simply ADD TO CART.  Once in your cart, check the TEENY TINY box and text that says "THIS IS A GIFT" No extra charge to you. Thank you for blessing someone today!