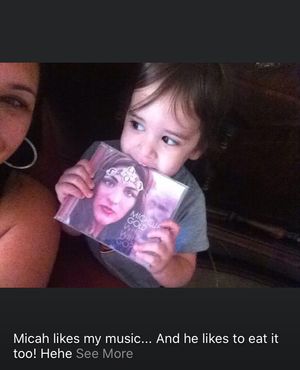 Today I want to CELEBRATE & THANK Messianic Artist-composers all around the world.
As a Jewish woman, I came to know Yeshua in 1995. I had no idea what Messianic music was or even what Messianic meant! Like many Jewish families, the idea of believing in Yeshua was forbidden for me until I came to think for myself in that year and deiced that He was my Messiah! As I read the Bible, singing  Christian Contemporary Music seemed to come natural for me, inspired by Crystal Lewis and Gospel artist, Dorothy Norwood. People were giving me cassette tapes of their favorite recordings and asking me to sing and write.
My husband and then youth leader, Joe Franco, had bought me an Integrity Records cassette tape I recall playing over and over. Prior to that, I had only one AMY GRANT tape and there was only one song about- well you know- Yeshua in English- the name I wasn't allowed to say- Jesus. I LOVED that song because it gave me hope to want to live after surviving years of hardship, seeing my Mom's struggle with Bipolar manic depression and all the pain in the world.
When I made my decision to follow Yeshua, Invitations poured in to sing for the Lord and HIs people and it was so awesome. But when invitations came in  to sing for other Jewish believers, though most were so happy to hear me, the feedback I received lead me to SUCH GRIEF!!!! I had no idea why my music didn't quite hit the spot for them! Many would come up to me after a concert and say, "Dont you know any Messianic music?" I didn't get why it mattered. But I wanted to bring healing and reach as many people as possible. So I began to ask the Lord to help me understand. I don't remember who I spoke with, but sone or two snobby people told me that Messianic music could never be explained. Crazy huh! Thank G-d their discouraging words did not stop me.
One day, the Lord sent me an angel named SUE SAMUEL! haha well, she's not an angel but she has a heart like one.  I poured out my heart to Sue, who had personally INVITED me to join her for coffee .I told Sue and her husband Brian how sad and confused I felt. When she asked me what was stopping me from joining in to write some Messianic music, I told her, "so many Jewish believers are asking me to sing this kind of Messianic music but I have NO IDEA WHAT IT IS! Sue and her husband Brian were super warm, not stuck up in any way and I finally felt like I belonged in the genre. Sitting across the table from this loving couple who cared so much about me at the Rosen Plaza dining table, Sue began to explain. 
Following our convo, I was hired by Jews for Jesus to direct the music for at the Liberated Wailing Wall music tour 2005-2007, under the training of Jeff Milenson. Before heading on tour, I immediately studied the music of Paul Wilbur line by line and analyzed it all note by note. There were minor melodies and sometimes even a half step between the first and 2nd step of the scale, which Jeff taught me was called an AHAVA RABBAH Scale.  There were lyrics about Israel and about all of G-d's people, or sometimes  old Testement stories and prophesies about God's promises in the book of Isaiah and in the Psalms. Sometimes there were Israeli Beats and other times, simply just Hebrew singing or catchy Hebrew phrases that meant something wonderful to the writer and those singing.
Following my studies, I decided that in order to REALLY understand this music, I MUST JOIN THE DANCE! So in nashville TN, I joined an Israeli dance class and I fell in love! I fell in love with the exotic beats and freeing rhythms. At that time, I wrote SHALOM and DAYENU. Dayenu made the 2005 album I recorded with Tovah Records. CBN aired my story but the TV program's sound system people told me that they had to cut my singing at the piano in my living room because the sound glitched. I was sad about it and big time humbled. But I had a tour to get ready for and my record company soon closed, with my AnR guy, Rick Elias assuring me that ministry was more important than record deals. 
As traveling music director, the Lord allowed me (and my husband Joe as manager and tour bus pastor)  to travel all around the United States, to sing in almost every state. The tour culminated with concerts in Israel and parts of Europe. We sang songs written by Stuart Dauerman, Mitch Glaser, Steven Katz and Jeff Millenson. Part of our tour included standing outside to share out faith. I never felt perfectly comfortable handing out pamphlets, so I stood on sidewalk corners and college campuses and I just SANG! When people showed interest, I gave them some more info. I realized how powerful and beautiful Jewish music can be when the RUACH (Breath of God) is upon that music and when lyrics based on or actually from scripture are infused into the music. 
That's all it took for me to get HOOKED on Messianic Music. My passion for God and for this genre lead me to convince all the artists on the bus to write and co-write all the music for the next album, NEVER FORGET. In the past, only a handful of artists were chosen but in my group, everyone was empowered to write and sing. Jeff agreed. (I had studied songwriting under Lorraine Ferro in NYC and had my classical voice degree but it was my very first time over-seeing other composers, encouraging them daily to write, assigning partners and times) Everyone wrote something beautiful and many surpassed me. That was the goal. 
One of the hardest things about being a Messianic songwriter, for me was my lack of rescources. I sat by and watched all the other artists release album after album after album. All my favorite famous and not so famous artists wither had the money to produce the music or they just knew how to raise the funds. It took me NINE YEARS of praying before I saw my very first Messianic album produced in 2014. Kickstarter and Paypal and a few close friends gave to the project. The late, Aviad Cohen was instrumental in pushing me to finally reach out to raise the funds. He passed away not long after he encouraged me. 
When I felt like giving up, Aviad used to say, "Michelle, if houses were on fire all around you, would you NOT go out and help? People are dying to know God and you can tell them through your music" Since Aviad passed away, I have FILLED MY HOUSE with every Messianic Song I could get my hands on. The past seven years were spent writing my testimony in book format, producing it in audiobook and e-book, and translating the 2014 album into Spanish. thousands of CDs were given away in Israel and in Cuba. We were never in it to make money. I just wanted to use music to share the hope and salvation I found. 
Now it's 2020 and Im FINALLY recording a second Messianic album. It dawned on me that I owe it to the world to publicly CELEBRATE all the awesome Messianic Artists who have gone before and followed after me. I met an artist the other day in the nail salon who didn't care about my music ministry one bit even though I showered her with compliments and blessings... it crushed me. Artist today need to be united and lift one another up. We all have a vision to share healing and hope. So today, I want to celebrate and say thank you to this rather long exhaustive list of MESSIANIC artists:
Paul Wilbur, someone I always watch and learn from
Sue Samuel, a personal friend today and I can listen to her sing all day! 
Ted Pearce, a personal friend and someone who has invited me on stage with him to sing many times
Zemer Levav, Lead singer Shimrit Hanes has been a personal friend and mentor
Dr Greg Silverman- phenomenal heart and music, hope to meet his family one day
Jonathan Settel- a classical pop voice like no other. Amazing range
Batya Siegal- we never met but your music is amazing
Cory Bell- gorgeous voice and a stunning heart and ministry
MIQEDEM - beats that are to die for! LOVE IT
Keith Green- a songwriter we will never forget, your songs will live on FOREVER!
Aviad Cohen (recently went to be with the Lord)
Baht Rivka Witten- a girl with  SOUL. You are the real deal, girl! 
Joshua Aaron- love all your songs. look forward to meeting your family one day
Sharon (AKA Shae) Wilbur- Stunning inside and out. Has an awesome presence on TV and a personality everyone loves.
Misha and Marty Goetz - What a voice and ministry!
Deborah Kline-Iantorno, I love your heart and fun music so much!
Beckah Shae- Awesome and soulful voice
Joel Chernoff - you write all the songs we will always sing. CLASSICS. You paved the way for us
Jordan Elias- Great songs, awesome heart!
The Late, AVIAD COHEN- BEST MESSIANIC TECHO AND DANCE MUSIC EVER!
Oh man! And so many Messianic Groups I dont know about yet or whom I do know of: The Lamb, the liberated wailing Wall, Galilee of the Nations artists like Karin Davis, and more. When I began singing Messianic music in 2005, this list was much shorter. If I forget someone, I hope to come back and add to this! Pls forgive me.
Oh yeah, and then there's ME...Michelle Gold
THANK YOU FOR WHOSE UR and for WHO YOU ARE, AND THE BEAUTIFUL IMPACT YOUR MUSIC HAS MADE IN MY LIFE!