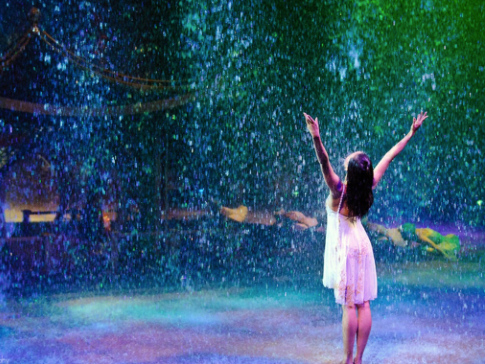 After what felt like a beautiful Spring season of singing & sharing my hope in Messiah through song, just as the Mangos began to fall from the trees by the lake behind our home, everything that could go wrong went wrong all at once. The Car broke down, the AC thermostat died, the emergency fund began to disappear, we all got sick, and then we found out my daughter needed braces. Suffice it to say we all became well relatively quickly and no one was hurt. But we took quite a little a financial beating. 
A slogan my mom often said growing up (besides "Que Sera- What will be, will be") comes to mind.The phrase is as follows: "WHEN IT RAINS IT POURS!" When a plethora of BAD circumstances occurred (or occasionally, when too many good happenings occurred all at once) we used to say these simple words, knowing all of our friends would understand.   
We all occasionally experience bad things happening to us- even to the most righteous people. But, my goodness,  it can be a real hardship when a bunch of stuff hits you simultaneously. With these circumstances, we have a choice to make on how we will respond. Will we REACT irrationally or will we choose to RESPOND, taking smart actions to make things peaceful again. 
From a negative perspective, if I choose to proclaim this slogan in mourning, I could say this with desperation, exhaustion, and a victum mentality.  Choosing this attitude could mean I've downright just given up! Poor pitiful me. Better "luck" next time.  
 Or- I could choose to put a positive twist on this saying! I could choose to NOT BE DEFEATED in the face of bad news. I could turn my complaint into a genuine self- assuring and God- trusting prayer. This kind of act will absolutely EMPOWER me in what feels like this CRAZY LIFE full of mishegas.  
My prayer might be the serenity prayer: "God grant me the serenity....change the things I can..." Or I can say a prayer--something like this:  
"Lord, a LOT has gone wrong in my personal life this week, this day, this month but I need your help. When it rains it pours, so Make it RAIN & make It POUR more of YOU! I need you to POUR YOUR LOVE & SPIRIT over me so I won't burn in the heat of the sun." Turn my mourning into dancing and help me to turn my lemons into lime! 
 (Well, I like LIME a LOT! Lol Maybe for you, gatorade, or it's lemonade, Lime-aide or even a  virgin Lime-arita!!!!) 
Either way, we must ROCK ON and CHOOSE TO REMAIN UNSTOPPABLE.  The scriptures say that whatever the enemy meant for evil, God meant for good. (Genesis 50:20) All things work together for the people like you and like me who love God and who are called according to His purpose. (Romand 8:28) Do not be weary in doing good (Galatians 6:9) The same power that raised Messiah from the dead lives in us. (Romans 6:10-11)  If God is for me, who can be against me!  
So let us run into God's throne room (Sitting with Him in silent prayer) for a refreshing and restorative time in His transforming and empowering presence. Because that's the kind of RAIN we want…Heavenly showers of life-giving energy!  
Let it rain, Let it pour! God reigns, God pours rivers of blessings upon us! 
What does this phrase mean to you? Share your comments below cuz. I'd love to hear from you! 
PS- If you enjoyed this blog, you might also enjoy my book, FINDING GOLD.  Please show your support by subscribing to my youtube page youtube.com/michllegold. All my love, Meesh 
* Photo from https://kimwarner.com/2016/07/26/is-it-raining-where-you-are/
* To find out how we recovered from this financial mess, check out our favorite author, Dave Ramsey at www.daveramsey.com or on Amazon.